26th October 2016
I have had a period of travelling and intensive working on some new translation, so in many ways it feels as if the 'autumn term' is just beginning.
I am receiving a steady stream of enquiries regarding training in therapeutic writing and am looking at setting up some new ways of training – watch this space!
Meanwhile, Kent is enjoying a golden autumn – here is a bunch of the last flowers from a friend's garden.
Poetry Therapy News
News and forthcoming events
Anne Taylor and I are busy teaching our 8 week course in Therapeutic and Reflective Writing for the Professional Writing Academy, with this time two groups running in parallel.  It comes to a close in the next few weeks and the next intake begins on the 9th January 2017.  It is already booking steadily and it's possible to reserve a place with a deposit.  Reductions for Lapidus members. Details here.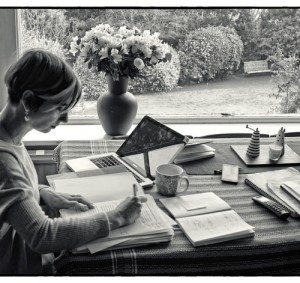 I am delighted to be participating in the Folkestone Book Festival, giving a workshop on Writing for Health and Wellbeing on the 26th November.
I had a great time at the  Sandwich Festival Poetry Day on the 24th September – a real pleasure to read with Helen Ivory and to hear a range of wonderful poets.  Here is a snap of Katherine Pierpoint, Jeff Loffman and me enjoying Jo Field's reading.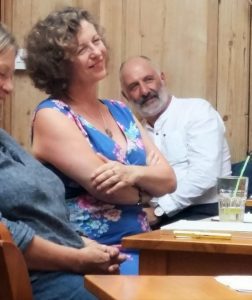 Charmaine Pollard – fully qualified as a Certified Poetry Therapist  – is running a workshop together with Narayani Guibarra  on Writing for Wellbeing – Fluidity: How to be both grounded and flexible –  3rd December 2016 in London – Booking here
The well-established course Graham Hartill and I have been teaching at Ty Newydd  for the past nine years –  Writing in Health and Social Care – is next running the week of 13th November 2017.  Ty Newydd is one of the most beautiful places I know and the course is always (and differently) a memorable experience.