Tŷ Newydd is the National Writing Centre of Wales. Established in 1990, thousands of aspiring and budding writers have since passed through its iconic teal front door. I've been co-leading courses there for over a decade and consider it a home from home.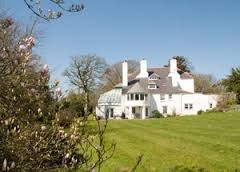 Tŷ Newydd
This course took place in October 2019
A programme of practical workshops, teaching, sharing and experiencing the transformational power of language plus guests who will talk about how writing and reading helped them to heal. Rachel Kelly spoke about how reading poetry helped her overcome severe depression, Eric Ngalle Charles spoke about his journey from Cameroon to Wales via Russia and we will looked at 'poems as friends' with the inspirational Poetry Exchange.