Its papery nest
The half-way point of the year has passed. The longest day was celebrated at two labyrinths.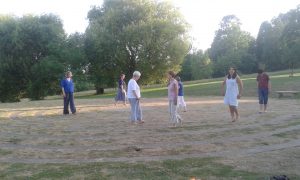 The garden is starting to 'go over' partly because of the hot, dry, sunny weather we've enjoyed in Kent for the past couple of months.  I've travelled a lot this year, been to a flurry of conferences and festivals, co-written and launched a new course and completed all the concomitant admin.
Now, a long, slow out breath. Teaching has finished, workshops have come to an end, a book has been launched and I'm going on holiday tomorrow.
A time to take stock, feel a sense of achievement and enjoy reflecting on the many impressions of people, books, events, happenings and travels. And also a sense of sadness at the losses and suffering experienced by friends and the wider world.
And a feeling too of regret at not keeping up with my blog and not writing as much creatively as I would like to.  Jane Kenyon uses the image of a wasp unable to enter its own house in her poem 'Not Writing' .
This makes me wonder about images I would use for writing – or not writing.   For me, creative writing feels like a form of travelling, going to new countries, seeing different scenery.  Not writing is a bit like staying in a stuffy room, perhaps a dreary waiting room with old magazines and uniform furniture.  Perhaps my poem would describe the wasp unable to leave its nest instead of being unable to enter it.  Here in the garden, great tits have built an unlikely nest in an upturned flower pot which they enter over and over all day long and we wonder how the baby birds will manage to fledge.
Entering my own house would be something different, more like meditation or solitary walking.  This mid-year review is a bit like standing on a hill having ascended one side and looking at the view before carrying along the ridge or going down the other side.  So many metaphors of place for the psyche.
So here is a blog post, first in a long while, part of the papery nest of words I might bring back from a trip somewhere, a holiday, whether walking around the Isle of Wight or escaping into the country of the imagination, or both.