Back at the Beaney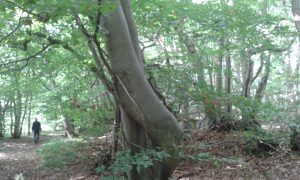 After a long break, I am pleased to be back in the Community Room of the library at the Beaney offering a weekly Words for Wellbeing Session.
Every Friday from 2pm-4pm, we gather, write from prompts and read a poem together and write in response. This simple formula, I am convinced, can contribute hugely to our mental, physical, emotional and spiritual wellbeing.
I am often asked about the evidence for the above and I am intending to upload more links to studies and research on this website but the underlying mechanism I think is connection – to ourselves and our inner and outer lives, to each other, especially those of us round the table at any one time, and then the wider world beyond.
There's more to it of course.
And for those interested in the content who couldn't make the session on the 20th October, we first wrote about safety – 'I feel safe when …' –  a prompt shared by Charmaine Pollard at the Lapidus Conference in Bristol this year.  Ideas that emerged including space, tolerance and respect.
We then did a free-write – 'Being here …'  These free-writes are like dropping a bucket down the well, to paraphrase Seamus Heaney's famous essay.  Who knows what we might bring up. Air? Clear water?  A dead rat? Weeds or treasure?
Then we read Advice from a Tree, a poem by Ilan Shamir and discussed which line or line speaks to us most strongly.
Trees are great teachers and I feel fortunate to live near the Blean, England's largest area of ancient woodland, a reminder of continuity when there is so much change in the world.
Wise Words for Wellbeing is supported by Kent Libraries and Archives and Workers of Art – every Friday, 2pm – 4pm, Canterbury CT1 2BD, open to all, free of charge.